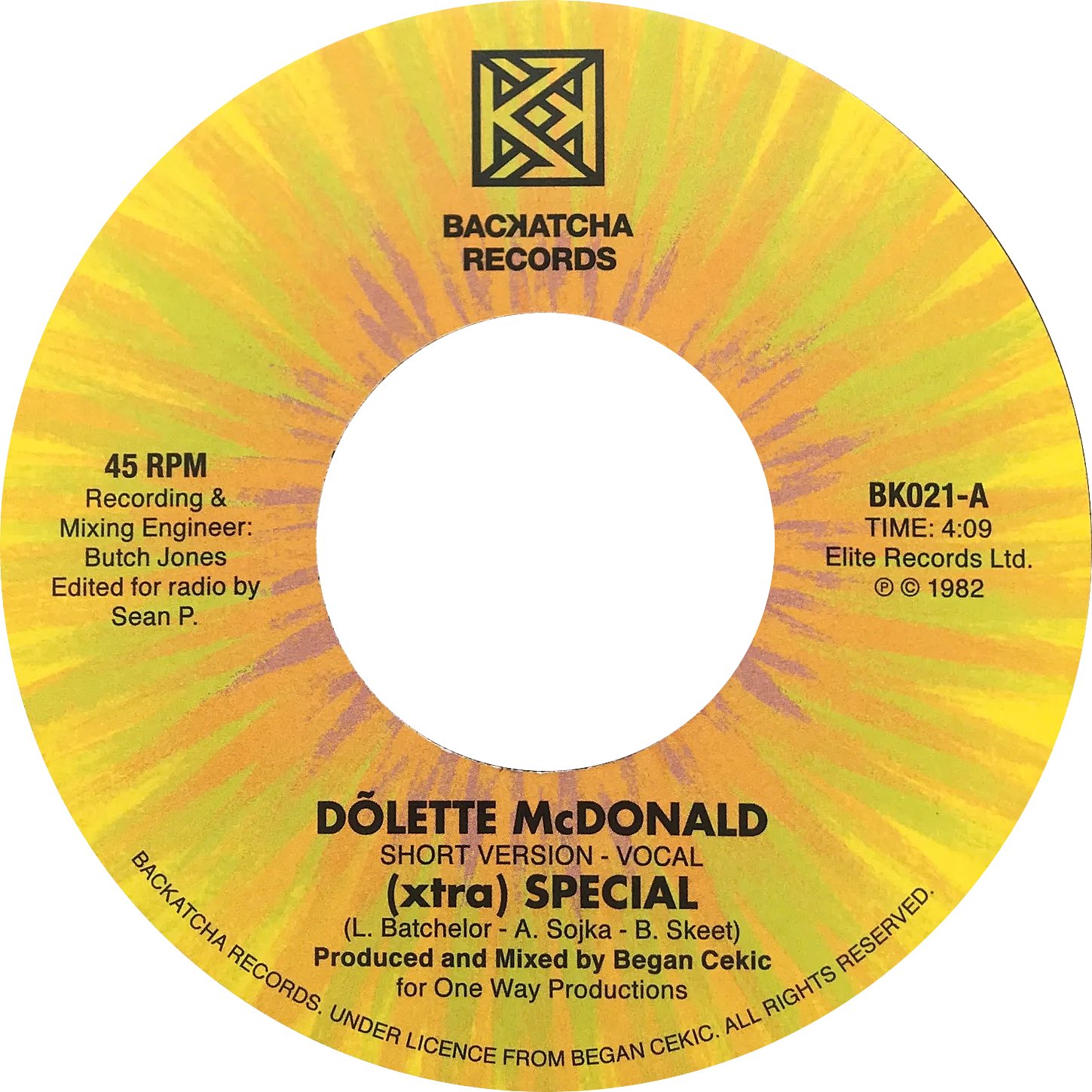 SOLD OUT - Dõlette Mcdonald
"One of the DJs in a pool in manhattan said 'listen to this, no one has this record'. There was a shop in the subway on 42nd street and tourists would bring records from Europe to sell and the guy said to me listen to 'Xtra Special' and that's how I got to it", says Began. "It had heart. I found Dolette Mcdonald. She was a studio singer. Her vocals are remarkable."
Recorded in 1982 as a cover version of Atmosfear's 'Xtra Special' from the same year, the recording has become a flagship release amongst collectors and music lovers from a long line of versions under the production of Began Cekic and his various labels.
"The song should have been a hit. Sometimes I was releasing too many records and not paying attention. I had three or four different labels and if a record was not making money, I would not spend enough time to promote it and jump to another record"
By the early 80s, vocalist Dolette Mcdonald was already firmly rooted in her singing career singing with Afro-Cuban Band, Michael Zager, Chic, Buster Jones and numerous New Wave bands, most notably Talking Heads on record and on tour. "I was doing a lot of work at Blank Tape Studios as a session singer and was assigned to work with Began", Dolette recalls. "He played me a tape of the original version. I hadn't heard it before and we went over it a few times until I had it down. Buster Jones played the bass. I remember it being a lot of fun." She'd first met Jones whilst singing with The Bombers. At the time, the Talking Heads were looking to expand their band and after Buster recommended Dolette's vocal talents to them, she joined as backing singer, both touring and recording.
Blank Tape was a powerhouse of session players. "Everybody was using either Sigma Sound or working with Butch Jones at Blank Tape", says Began. "They had all studio musicians. First, it was Sweet Touch, then I met the guys from Common Sense. They were all top-of-the-line musicians from saxophone, to guitar, to the drums, even though most of the drums we recorded was a Linn Drum. Butch Jones the engineer, Tee Scott, Jocelyn Brown, Bob Blank, John Benitez, Buster Jones, Larry Smith... all the best players. David Byrne used Blank Tape. I would go there one night with a tape of songs I wanted to cover. We'd listen to it hundreds of times, mix and edit it and put it out. In NY we had three to four indie distributors working 24/7 and pressing records. All cash business. We could sell up to fifty to one-hundred-thousand copies in one week in just New York, it was that hot".
Began Cekic came to New York in the early 70s from the former Yugoslavia. For a music-loving entrepreneur, the city was a hustlers playground and he knew his market. Settling in Brooklyn, he DJ'd, ran a record shop, ran four labels and distributed the releases either door-to-door from his truck or with independent distributors throughout the east coast.
"For me I discovered America, I discovered music. There is no business like show business, that's what they say. With musicians, there's only good and bad and for me at that time, the best music was dance music. When poor people perform something it's part of their life. Coming from where I come from, the bottom of the world to the top of the world in New York City, I had one of the most successful independent record labels by the early 80s.
I was selling the records out of my van. I was doing the distribution for a lot of small independent labels like West End and Prelude. I used to work with the most progressive record stores in the metropolitan area, Connecticut, Pennsylvania, New York and New Jersey. I was the first guy taking these records to the shops to do in-store play promotion. If we couldn't get radio then we'd go in-store and give out samples. The working-class would come in on a Friday night to hear the in-store playlist and that's how the records were sold."
Across his different labels, Began released numerous cover versions or re-played popular grooves from songs big in clubland - 'Girl You Need A Change Of Mind', 'Voices Inside My Head', 'Love Is The Message', 'Weekend', 'Bra', 'Trans-Europe Express', 'Spank', 'Who Is He and What Is He To You', they all got a look in.
"East coast was the mother of dance and disco. Everything came through NY city" he explains. "Big labels went to California but they lost the touch - it was all rock and roll but the underground and the street was different. You needed money for radio play so we listened to what was hot in the clubs and pushed it through the shops. Larry Levan at Paradise Garage was playing to up to 5000 people in a night and all these people were record buyers. The people wanted those records. People going to the nightclubs, they'd hear that break, you know. People would go crazy or they'd remember some parts. Most of these disco songs had the part you know... 'push push in a bush' or 'ain't no stopping us now'... the records they remembered... they'd catch just that line and that's what sold the records."
It was a new scene with a big market that the industry red-tape had no handle on. "I remember Russell Simmons was pushing 'Christmas Rap'. He came to me and he wanted too much money so I sent him to Mercury. I sampled it for Neil B. Same thing I did with 'Another One Bites The Dust' for Sugardaddy. I did that, but even their song (Queen) is stolen off 'Good Times'. When I sampled something I did something different with the record" expresses Began. "In the beginning, all the rap groups were sampling from records that were very popular, but just parts. There was Sugarhill and Bobby Robinson on 125th Street doing it. We'd take them and make them eleven minutes.
When I go on online I forgot I did some of these songs I did so many of them. Like 'Computer Wars', I didn't have no group so I called it Began Began, a rip off of Duran Duran! You can do a cover of any song, I heard them and went straight to the studio".
'Xtra Special' 7" version is available now for the first time. Radio edit from Sean P c/w instrumental.