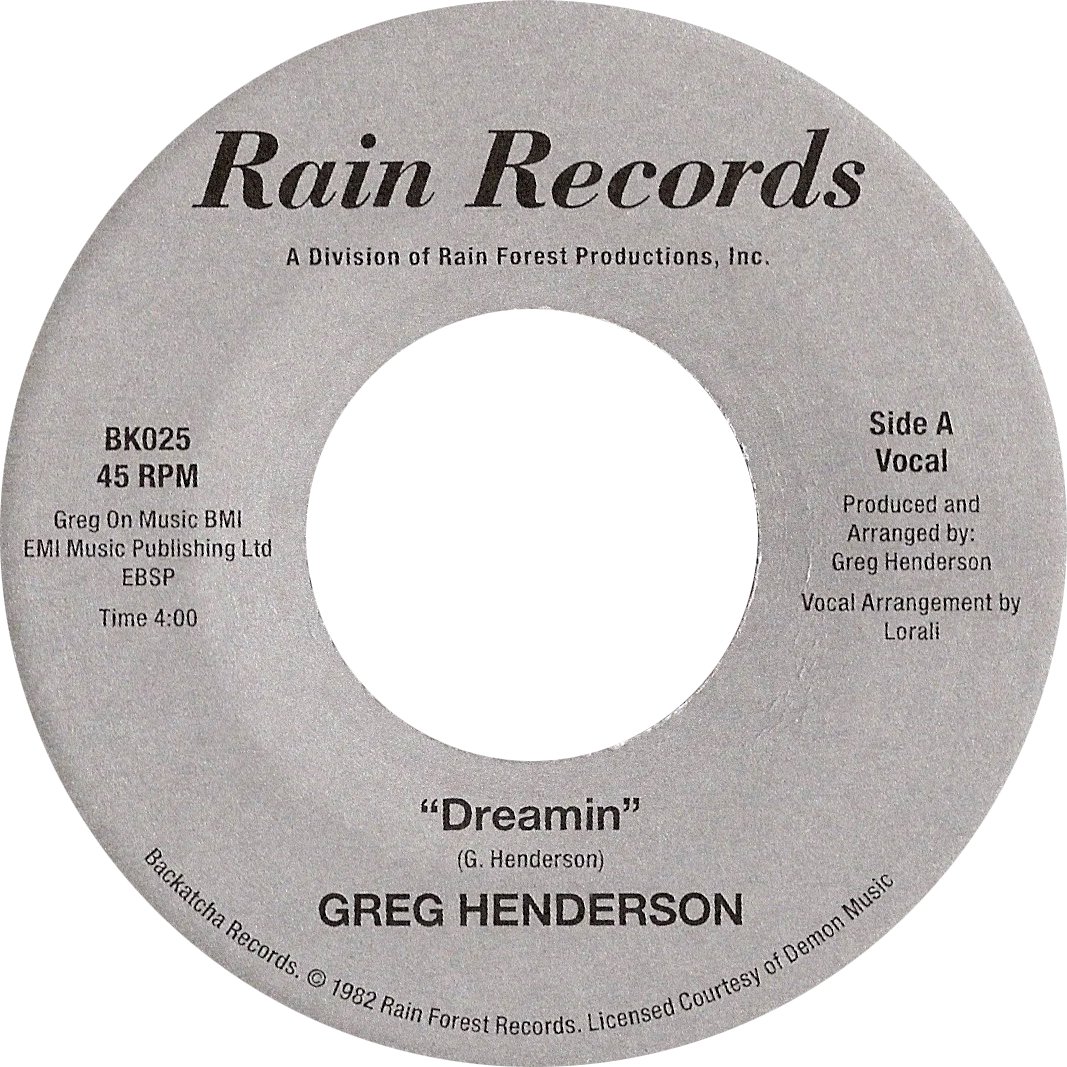 SOLD OUT - Greg Henderson
Originally recorded in 1982, this previously unreleased 45 version of Greg Henderson's 'Dreamin' is made available on Backatcha Records. A flawless boogie classic, the song has remained a clubland anthem with particular reverence in the UK where it was embraced early on by the soul, boogie and dance scene. Despite producing and releasing a handful of classic records, Greg Henderson and the backdrop to his works has remained an enigma.
Greg was born into a musical family in the bronx as the son of a jazz pianist father and singing mother. Both brothers and sisters are musicians and he started playing trumpet early. "My first band I put together was for a school talent show when I was twelve. I'd been playing trumpet for a few weeks and my teacher encouraged me that I had something. I wanted to impress my dad y'know and we won!" Greg says laughing. A few more neighbourhood bands and some years later, he majored in music at Queens College, NY and received an academic scholarship to study and teach at the University of the West Indies in Kingston, Jamaica. "It was good man, I loved it there teaching music and learning".
"I grew up around so much music in the Bronx, we was hearing everything. It was the jazz that got me... Coltrane, Miles Davis, Freddie Hubbard... them guys. They inspired me." During college he supported himself by playing latin music in the Frank Nieves Orchestra performing alongside salsa legends and learning the New York club scene. In the early-70s work was in abundance and Greg started his own R&B and funk band called Obsidian. They played all over New York City and in the summer of 1974 opportunity knocked. Greg was hired by the Jackson 5 to play trumpet with them in a string of dates including Madison Square Garden. "We was up there on the stage in front of this packed stadium in front of thousands of people playing through the songs when next we can't see anything past the haze. We'd become completely surrounded by a thick cloud of reefer from the crowd. It was like the whole place was smoking that stuff and the smell became so strong. I didn't smoke so you can imagine how that went... I'd never been around so many people smoking and I felt so sick man but I was determined! I made it through my parts without passing out!"
A year later, Greg saw a feature in the New York Times about the bustling jazz scene in Copenhagen. "I went to Amsterdam and supported a seven-piece band from Suriname. I loved Europe, it was so different from America."
He returned to the Bronx after a year of being on the road. His friend in Brooklyn, Darryl Gibbs (of Crown Heights Affair and Strikers) was putting together the best players he knew to form a new band called Made In USA. He hired Greg to join the horn section and help arrange parts. The brief was to form a band that could duplicate their recordings live that was testament to their musicianship. They constantly played gigs keeping a busy schedule and honing a polished NY sound firmly rooted in the high-school funk and soul bands that spawned across the four-boroughs some years earlier. In 1977, Made In USA released their one and only album for De-Lite Records. Despite a hit single on the east coast, the LP didn't gain traction commercially and the band soon disbanded.
Greg had worked the NY circuit for the better part of a decade and his goal to lead a band and record his own compositions came together in early 1978 when he formed a 10-piece band called Master Force. Motivated by his leadership, the musicians adhered to a strict rehearsal regime practising after hours in a warehouse mail room fine tuning Greg's original works. "Master Force was known throughout our community, we did so many gigs all over the place, I was honoured to be part of that group" explains bass player Doc Timberlake. "Greg was discipled man and so positive. I was young and he'd give us books to read about self-empowerment and improving ourselves... It was a stepping stone for me and I loved Master Force. It was one of the greatest bands out of New York City."
Produced by Greg Henderson and self-released on his own Rain Forest Records imprint, Master Force's 1979 single 'Hey Girl' c/w 'Don't Fight The Feeling' has become a staple classic across generations and a standout choice on any playlist. Whilst independent distribution and exposure was limited, Henderson's output on his Rain Records imprint became revered amongst DJ's in the UK from the start.
'Dreamin' was Henderson's second solo-release after producing 'Dancing To The Beat' for Park Way Records. Recorded in 1982 in a community recording studio in Brooklyn, it featured a vocal trio on lead called Lorali led by Isabelle Coles of Kleeer and Herbert Aikens from Made In USA on drums.
Like Master Force, the project was self-funded and released on his Rain imprint before making a deal with Sam Records receiving greater exposure in clubland NY. The 12" mix was licensed for release on London-based Greyhound Records. "It was kind of a disco hit" Greg says amused. This included a previous 7" pressing of the first three-and-a-half minutes of the 12".
Greg continued to record and produce for Rain Records releasing 'Never Too Late' and 'Good Love' featuring his late-friend Romero Jefferson aka Rome Jefferies. Both releases remain highly-sought after and like 'Dreamin' have remained crowd favourites with soul and dance fans old and new. Now Backatcha proudly releases the 45 version of Greg Henderson's solo debut on limited 7" for the first time.