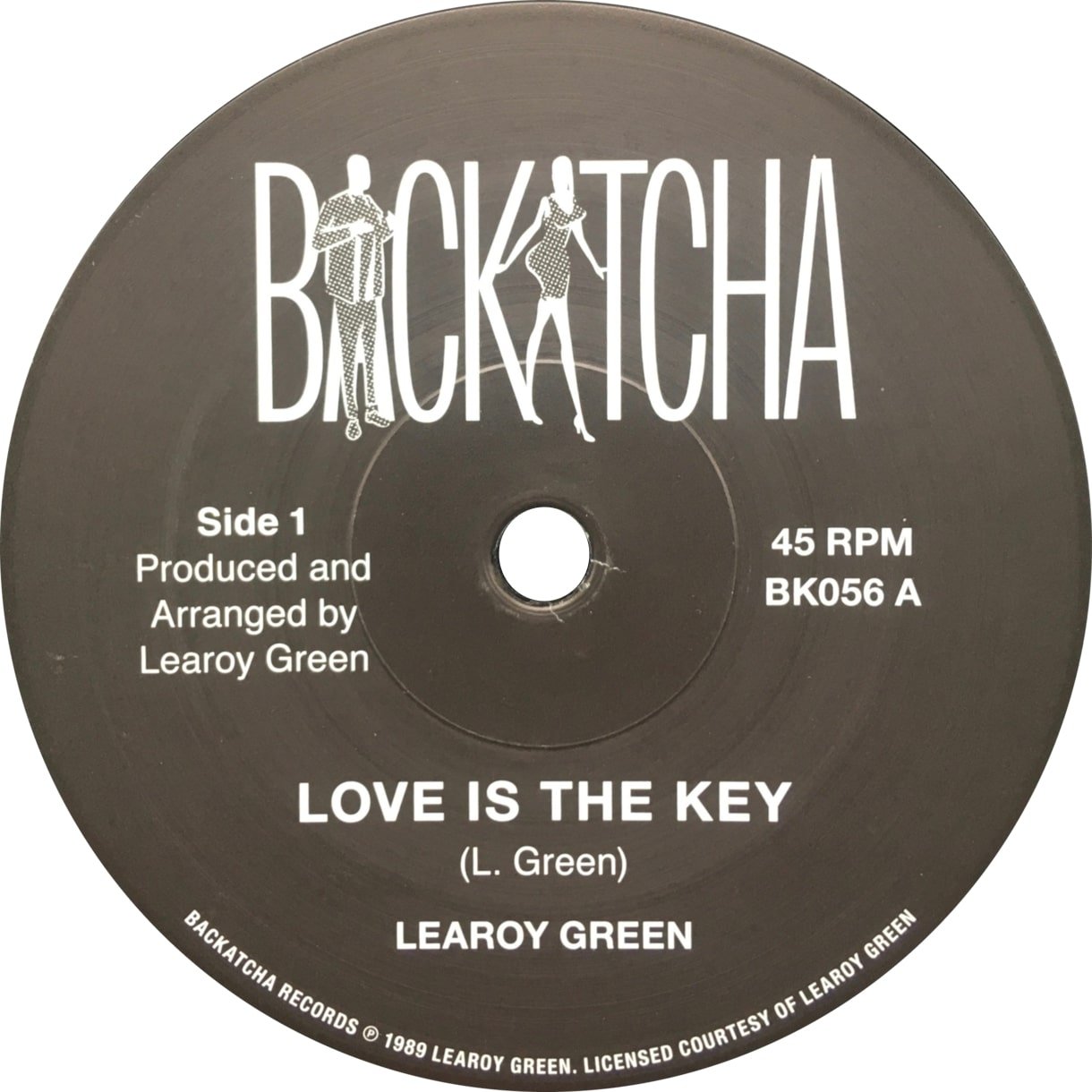 Learoy Green 'Love is The Key' 45
Learoy Green 'Love is The Key' 7" single.
A1 'Love Is The Key'
B1 'Love Is The Key' RE-MIX
The drummer for Brown Sugar's anthems 'In Love With A Dread Locks' and 'Black Pride', Learoy Green's rare and in-demand solo street soul gem from 1989 is finally available on this limited 7".
Since his early recording sessions with Brown Sugar as a young teen at Eve's studio, Green's played on numerous projects either as a session player, or with his own bands including lovers' rock sextet, Natural Touch. Read on to see more about Green's inspirations as a musician, his current projects and the makings of 'Love Is The Key' in the following Q & A excerpt:
You were an in-house drummer at Dennis Harris's Eve studio in Lewisham working on backing tracks for Brown Sugar. How did that come about and what are some of the songs you played on?
LG: We were invited down to the studio to demo some tracks for my band the Kushites and the backing vocalists were the soon-to-be-known Brown Sugar. Although they weren't too keen on the band they took interest in the girls and myself.
Did you grow up in south London?
LG: I grew up in Brixton, south London, but I was born in Aldershot.
When did you start playing the drums and has it always been reggae related? Have you played with other groups outside of the wider reggae scene?
LG: I started playing drums at school very briefly because the teacher left after a few months. I never played outside the reggae field but toured extensively worldwide with many reggae artists.
How did Natural Touch come about? Was that a group you put together? What studio did you use when recording for Neville King's label?
LG: Natural Touch started when my band broke up and I started to jam with some friends. It sounded really good so we decided to find an outlet for our music. It was run by myself and my good friend Charles Nelson who knew Neville King, so we invited him to a rehearsal and he decided to record us, using TMC studios in Tooting and then Mark Angelo.
You later did production at Tony Williams' Wan Studio in Balham including projects with Calvin Harris and Sandra Escoffery. Is this where 'Love Is The Key' was recorded? 
LG: We recorded many songs at Tony's studio in Balham but 'Love is the Key' wasn't one of them, that was recorded at a friend's studio in Balham.
What equipment did you use on 'Love is The Key'?
LG: We used a Drumtraks drum machine and overdubbed live hi-hats for a better feel, all the other instruments were played live with no computer,
Was your original 'Love Is The Key' white label 12" self-released? Why did it not get a general release at the time?
LG: Yes, it only came out on white label, we did a very small run which we gave out to a few DJs but the response wasn't very good so it was shelved.
In recent years, a new generation of collectors and DJs have tagged 'Love is The Key' as 'street soul'. When you originally released it, what labels (if any) would you have given it?
LG: We just thought of it as British soul music.
Other tracks like 9SG 'Here I Come' featuring Marsha was another white label you produced - did a lot of works come out uncredited?
LG: Yes, I produced and wrote that track but I never knew it even had a test pressing until recently. There could be more around that I don't know about.
You're known for reggae-related output both as a drummer, singer-songwriter and producer. Although related, 'Love Is The Key' goes in a different direction. Growing up, who/what were your main influences musically?
LG: My main influences have been predominantly reggae. Growing up, I used to see my father come with the latest reggae records straight onto the gram. In my teenage years, I got into soul and soul clubs.
What music scenes aside from reggae have been the most influential on you growing up in the UK in the 70s and 80s?
LG: In the 70s, we listened to Suzi Quatro, Mud and T. Rex, because we didn't really have any other form of music played on TV and radio. It was very restrictive and then I got into Motown, roots, and lovers' rock.
What records had a strong influence on you music-wise during those years?
LG: Bands like The Heptones, Gaylords, Wailers and The Mighty Diamonds.
In the 70s and 80s, were there any particular clubs you went to regularly for the music? Whether that be to see live acts or sound systems?
LG: Bali Hai, All Nations, Columbo's, Hill Top, Crackers and many more, but sound system clashes were my favourite as I used to DJ on my uncle's sound.
What have been your favourite projects to work on over the years either credited or uncredited?
LG: I did an album for Dawn Penn which I really loved, but I also recorded around fifty songs for the late and great Prince Buster.
You work both as a studio and live drummer, what have some of your favourite artists to either record or perform with?
LG: I recorded a version of 'Dog War' by Toots for an Adidas TV campaign and when Toots came to voice it he thought it was the original recording. But my two favourite artists with whom I toured the world extensively, are Desmond Dekker and Prince Buster.
What projects are you currently working on?
LG: I'm currently recording and playing live shows with the Dub Addict crew from Lyon and British roots artist Darien Prophesy and I have an album ready to release of my own songs.