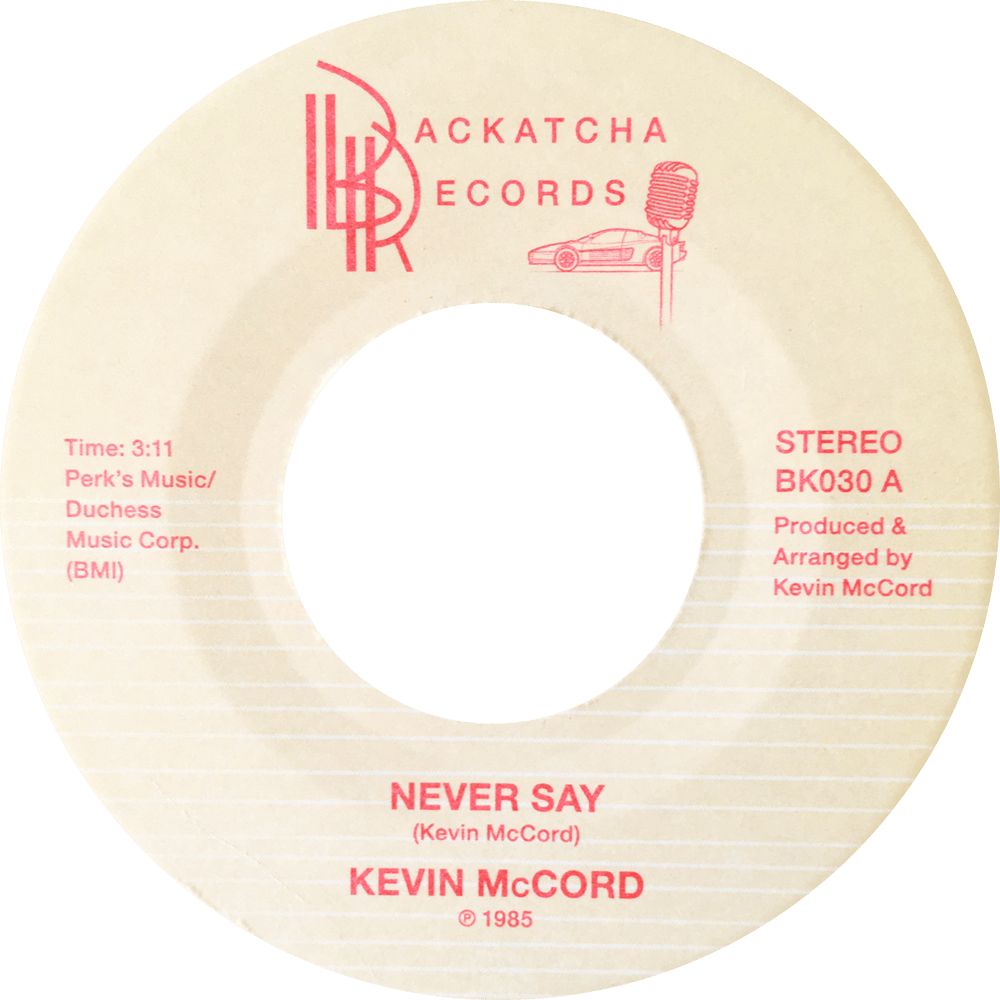 1985's 'Never Say', a local Detroit favourite on the likes of Mix 92.3 found strong appeal amongst soul and funk fans in the UK. Its line-up features McCord on the rhythm section, Leroy Hyter on piano and sax, Randy Jacobs on guitar and the Ridgeway Sisters on backing vocals. "You just need four instruments to have a jam" explains Kevin. "I love the forty-five version and the way it starts with the guitar and groove. I'll always love the twelve-inch but that flip we did for the forty-five...? I always liked that, I was really into this version, it gets straight to it."
Engineered by Detroit studio veteran Greg Reilly and taken from the original master tapes for Backatcha, 'Never Say' is backed by the 1991 recorded ballad 'When The Night Comes' featuring singer Vicki Harvey. Loyal soul fans will be familiar with this stand-out duet as the title-song from McCord's sought-after album released the same year, now on 7" for the first time.
Ten years after co-forming Al Hudson and the Soul Partners in 1976, bassman Kevin 'Mr Groove' McCord had established a signature sound penning, producing and performing numerous chart hit recordings across multiple albums for a close-knit group of Detroit musicians. After the transformation of the Soul Partners into One Way in the late '70s, he created a handful of classic club R&B singles including the 1981 released Tee Scott staple 'I Wanna Thank You' with band-mate Alicia Myers. Just months prior to this, they'd charted with 'Don't Stop What Your Doin', following-up the combination in 1984 with Myers best-seller 'You Get The Best From Me'. More US/UK chart success came with Oliver Cheatham's 'Get Down Saturday Night' single in 1983. "Oliver was nothing but soul, he was the best guy I ever worked with," says McCord. Then a year later the release of One Way's eighties funk anthem 'Mr Groove' earned him his moniker making a lasting impression on a new wave of listeners.
Whilst he left an indelible mark early in his career on the R&B and Funk world, the achievements of Kevin McCord have largely evaded modern-day scrutiny. A masterful arranger and musician behind a stack of crowd favourites, his musical legacy is reflected both in his craftsmanship and the memories of those who grew up listening to his works.
In 1984, almost a decade after he debuted on ABC Records, McCord started his own label and solo production set-up, Presents Records. The vibe was DIY Detroit ethics, all stripped-down synth-laden electro-based funk, soul and some pre-freestyle sounding records starting with the single 'Time To Move' by Carmen Clayton. A string of releases followed with various artists, including an album from wife and One Way singer Candyce Edwards who'd debuted her solo album with MCA a few years previously. There was also an unreleased white label LP from the duo in 1985 that's been bootlegged in part recently.
Unlike many of his peers' eighties offerings from yesteryear, the releases on Presents were more consistent with the sound of a younger local scene; a basement vibe that has been the focus of listeners zooming in on recordings that conform to their ideals of 'rare' independent synth-based drum machine funk.
McCord started a second label called Chance around 1987 with its first release from Stinger J aka Johnathan Haywood entitled 'Pretty Face', an R&B and funk affair that's gained a lot of traction amongst new listeners in recent years. Like its 'Never Say' predecessor, it has put the spotlight back on McCord's output amongst various reissue labels.
Heralded by Dam Funk as one of his favourite producers, McCord's catalogue has influenced many and has been sampled on a crateful of hip-hop and R&B records alike since the late-80's. Many of these records came via the West Coast, highlighting the McCord / ADK trio's influence on a new generation of artists tapping into the One Way funk sound they grew up on from LA to the Bay Area. Similarly, fellow Detroiters Slum Village laced the 'Don't Stop What Your Doin' anthem for their Fantastic Vol. 2 album with 'What It's All About'.
"I love it all," says Kevin whilst taking a break from a basement jam session,"It's all expressions and I want people expressing themselves getting a little beat together or whatever and expressing themselves with their music".