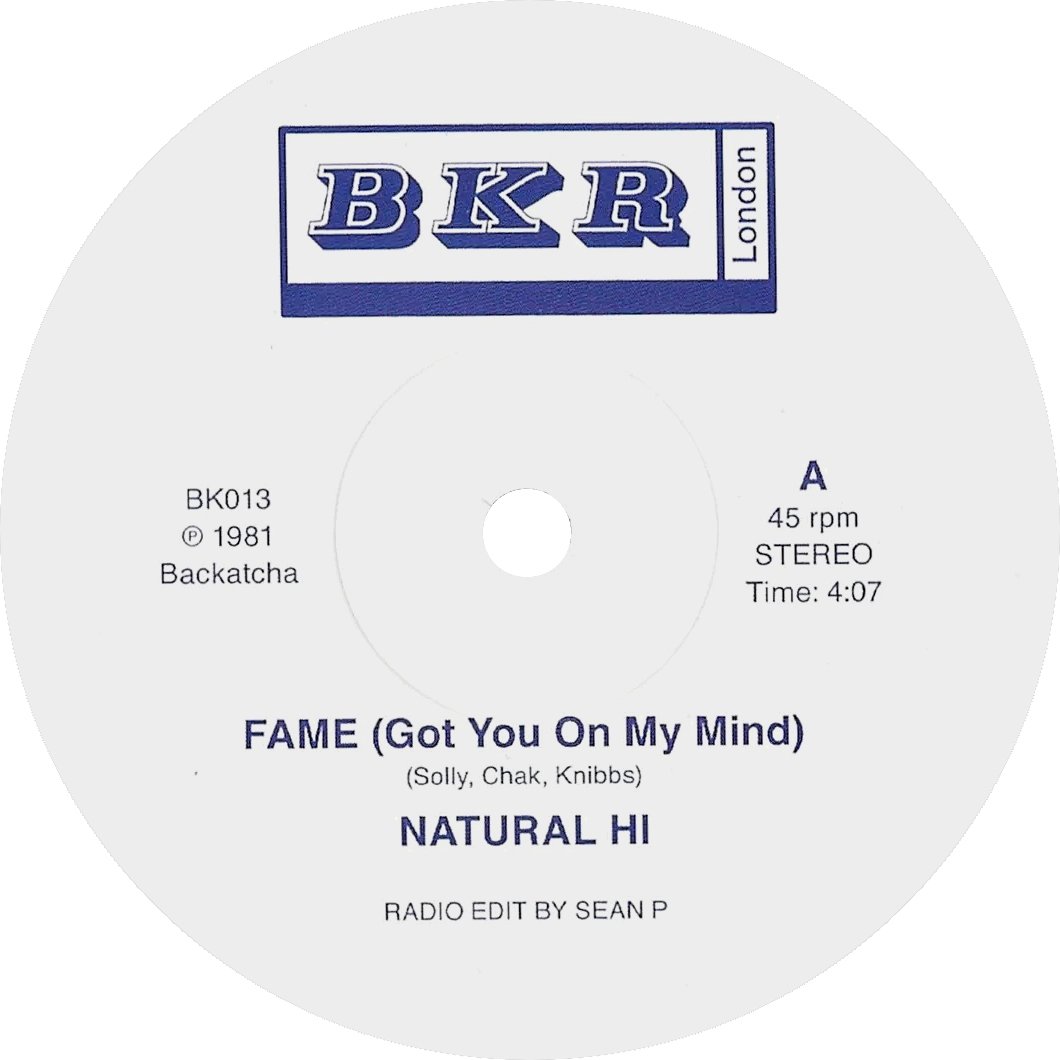 Natural Hi's 'Fame' is made available for the first time on 7" with Radio Edits by Sean P.
Hailing from North and South London, Natural Hi was led by Solly Kane during the heyday of the UK's jazz-funk scene in the early-80's. The music and creativity was set amongst a backdrop of numerous clubs, bands, pirate radio stations, import record shops and many pivotal genre-breaking homegrown record releases.
For musicologists, music buyers and anyone winding the clocks back to 1981, 'Fame' epitomises an underground sound that was informed by the youth movements across the city.
Solly recollects the scene - "It was early jazz funk fusion and also at that time the London sound. From places like Crackers, Embassy and Canvey Island, there were a lot of mixtures going on in our heads from George Clinton to Light Of The World and everything in between."
"We listened to Horizon, Solar, Robbie Vincent, Radio London, Greg Edwards, Pete Young and our main guy Steve Walsh who played our record".
With pirates such as Horizon and clubs like the Royalty in Southgate, DJ's names began to hold more currency. Whilst many UK record companies wanted to sign two guys and a synthesizer, categorical 'brit-funk' artists with major funding often had the good bits left on the cutting room floor for sanitised chart hopes. In contrast, Natural Hi's raw sound echoed the London funk and punk ethos that had preceded them in the mid-to-late 70's.
Originally the group started out by "jamming and loosely forming a band with me on vocals and Sam on guitar and writing" explains Solly. "In time we enrolled Michael on bass guitar and other members... Seymour was on drums and there were session guys who played on the Fame track. The majority of lyrics were written by me and Sam as a tongue in cheek comment about record companies". As for the music? "It just came the way it came" he says.
No absurd A&R's decisions determining the musical direction, Natural Hi were following themselves. "To be honest we were younger then the other bands around at the time, but we were a lot more daring and felt comfortable in trying to create something new. We saw ourselves as a fresh new London sound."
In a similar fate to other modern day classics, various factors prevented the record from getting significant exposure. Wind the clocks forward and it now has a mainstay place on the map thanks to Sean P who credits his friend Winston as the person who told him about the record.
A renowned record collector, Winston has been responsible for putting numerous heavy-hitting favourites on peoples radars for decades. "He brought it in the record shop where I was working in Camden" says Sean. "I could see it was a British twelve. At first the vocal didn't sound like a UK artist but I couldn't identify the music as being American or from anywhere else. There was something about it that just didn't go away and it stuck."
Solly continues to write and sing music. "I did a film score called Jigsaw Man which was a major release. I worked also with a guy called Winston Sela of Maxi Priest fame and several other smaller projects including sessions for other musicians. Currently, I have just finished an EP with a producer called Chaz Dabat (of Jess Glynn fame) . My EP is available on all major digital platforms to download and stream such as: Amazon, iTunes, Google Play and Spotify. You can just type in Solly Kane. The EP title is Beyond The Stone. My website is www.sollykane.com and you can listen to all my tracks and general information about me."