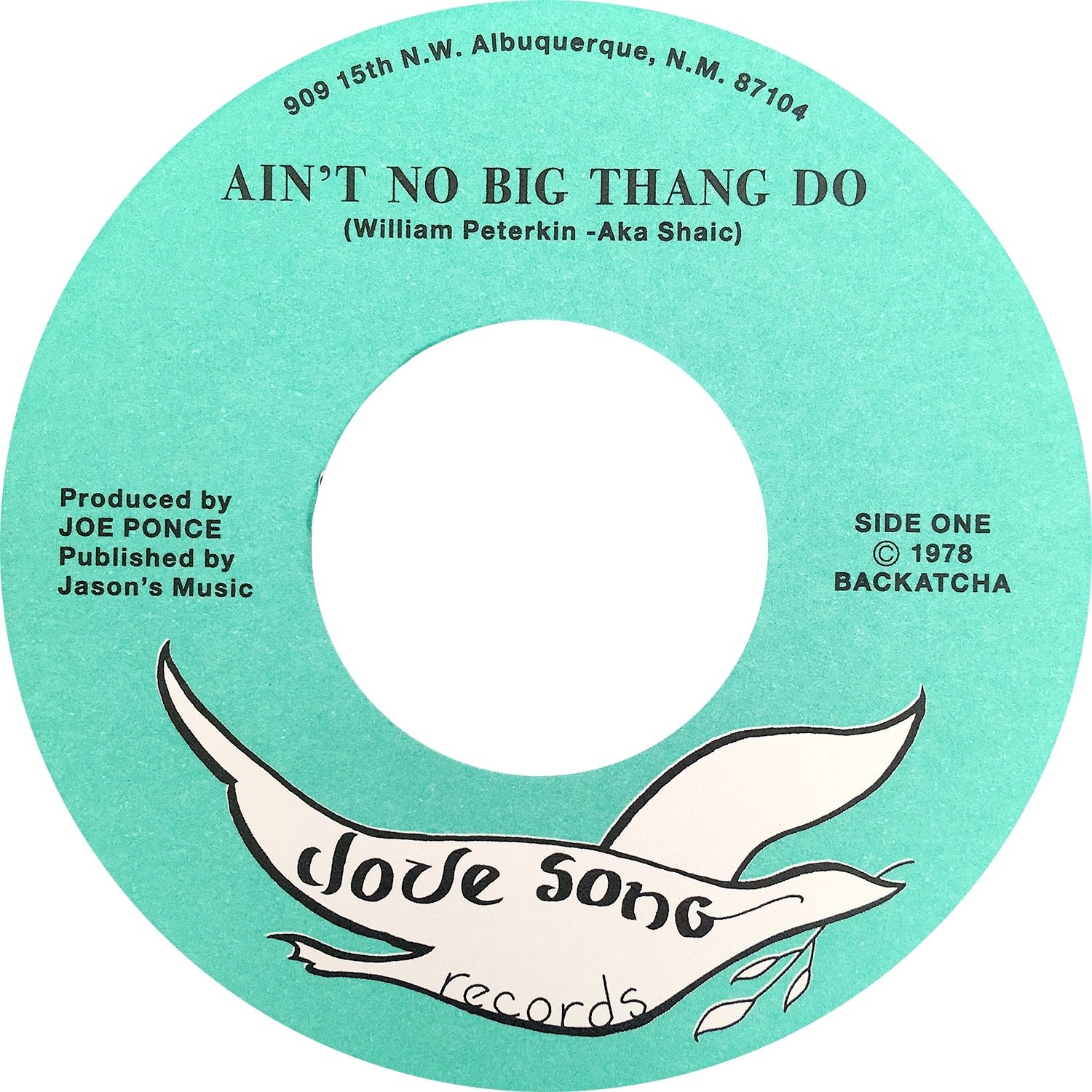 Released on a shoestring by three musician friends in 1978 in Albuquerque, New Mexico, this 'desert soul' double-sider obscurity surfaced onto the collectors scene a decade ago thanks to DJ and label-owner Russell Paine (Super Disco Edits ). "I see a copy on ebay. It really wasn't gaining too much interest but I thought it was a special sound ... I really was keen to find out more knowledge of its players and history. Alberquerque I don't think is rich for soul music, so wasn't long before I was in touch with Jose who gave me all the lowdown. Stories of hard times etc. Funny, he actually couldnt believe anyone liked the songs! I'm sure he has told you many stories... It's a cherished record" explained Russ.
In the early-70s, the writing duo Peterkin-Shaic were performing as Shades Of Black penning funk songs and ballads for Julmar in New York City. "A lot of people forget that Aka Shaic started out as a James Brown tribute artist. And trust me ...he was insanely good at it. He was a great soul dancer and also played piano and guitar starting out in our group The Shades Of Black" explained Pete.
Self-penned, produced and distributed locally by the artists, co-writer and guitarist William (Pete) Peterkin (pictured) saw another composition of his released in that same year with Donny Hathaway's single 'You Were Meant For Me'. Meanwhile, two-thousand miles west of Atco Records major label New-York office, Dove Records makes it's debut with singer Aka Shaic aka Douglas Cobbs.
As told by producer Jose Ponce:
I first met Aka Shaic in 1978 when I was playing jazz in Albuquerque, New Mexico. Albuquerque has a population of about a half a million, more if you count the outlying unincorporated areas of the county. The population is pretty evenly split between white people and those of Latin, mostly Mexican heritage. The rest of the ethnic makeup is about three percent Native American, three percent Asian and three percent African-American. Douglas... Shaic was one of the three percent African American.
Albuquerque, at the time, had a small, but loyal following for jazz. One of the patrons of a small, downtown jazz club was an older woman named Hope Barre. She was widowed and often invited jazz musicians to her house after hours to continue the jam sessions there. One night, I showed up and was introduced to Pete-from-New-York, a tall, lanky guitar player and his energetic, wild haired friend, Aka Shaic.
Pete (William Peterkin) had come to New Mexico attached to some girl, whom he quickly abandoned in search of greener pastures and Aka Shaic, well… nobody really knew much about Aka Shaic. He didn't have an actual job or a home but because he seemed to have a lot of friends, he drifted from house to house. Pete and Aka Shaic had met at somebody's home during a jam session and hit it off, personally and musically. Pete played upright bass and was a brilliant guitar player, Aka Shaic played a beat up nylon string acoustic guitar. Both were brilliant songwriters. Over the course of several jam sessions, Pete and Aka Shaic began to write music together, songs like Aka Shaic's "Chocolate Valentine" and "Chaka Khan" and Pete's rhythmic "Throwdown". Eventually, they decided to record two songs: "Ain't No Big Thang Do" and "Suave Villi Us".
At the time, Aka Shaic was hanging around a small recording studio co-owned by Bill Hunter and a native American woman who called herself Cherokee Darlin and claimed she was the inspiration for the Bob Wills song of the same name. The studio was located in the southeast part of Albuquerque called the 'War Zone' because of the high crime rate. Aka Shaic helped Bill keep the place clean, set up the mics and deliver bunches of 45 RPM records to clients.
The only thing standing in the way of Aka Shaic and Pete recording their music was $500.00. Enter me, a struggling musician with knowledge of copyright and, at least according to my business card, my own publishing company and five hundred bucks in my bank account. We booked a Saturday afternoon and Aka Shaic invited some of his friends to help in the recording. Jaime Powdrell played the mostly tuned studio piano, Aka Shaic's friend from the local mosque, Nayim, played flute, Pete and Aka Shaic on guitar on "Ain't No Big Thang…" and Pete on bass, Aka Shaic on guitar on "Suave Villi Us." I don't recall who played the drums.
The studio was sparse, with several recorders in a narrow glassed-in hallway on one side and a live room with piano, drums, an organ and a few mics positioned on spiderlike stands. There was one mic each for the piano and drums, a mic suspended from the ceiling that Aka Shaic, Pete and Nayim all crowded around and a separate mic for me and my little sister Barbara to add hand claps. Everything was recorded live, one take only, direct to two track. Bill Hunter held up his hand, we all held our breaths. Bill started the tape rolling and we jumped into "Swave Villi Us". The second, more energetic tune went pretty much the same, a pause, a pointed finger and Pete's guitar leading us into "Ain't No Big Thang Do."
Bill said it would take a couple of weeks to get the 45's back from the factory. Aka Shaic had already drawn a sketch of what he wanted the logo for his Dove Song Records to look like, which he supplied to Bill. He used Hope's address as the address for Dove Song Records. In the meantime, I drove Aka Shaic and Nayim and Pete back and forth to the club, to Hope's house, to my apartment and even once out to the river where Aka Shaic was living in the trunk of a cottonwood tree. We all agreed it was a very spiritual place.
At the time, I didn't know that both Aka Shaic and Nayim were converts to the Nation of Islam. They had given up their "slave" names and accepted more appropriate, African names. I just took it for granted that their names were just their names until one day they were explaining the whole re-consecration to the faith thing to me. Shaic, it was explained to me, meant teacher. I remember one conversation in the car when we picked up another friend of theirs who had just received his new name. "What name did they give you?" asked Shaic. "Uzziudin Pasha," replied the new passenger. Both Shaic and Nayim nodded solemnly. "That's a baaad name."
Two weeks later, the singles arrived in neat cardboard boxes of 50 each with the name "Douglas Cobbs" printed on each one. I asked Bill Hunter if that might be a mistake. "No," he replied, "That's your friend's real name. Some time ago, the cops picked him up for vagrancy and booked him into the jail downtown. When they asked him for his identification, he handed over his driver's license but told them that his new name was Shaic. When I went to bail him out, his booking sheet said "Douglas Cobbs aka Shaic". When he saw that, he decided to keep the Aka part and add it to his new name. "I just wanted to rub it in a little" said Shaic.
We took the 250 singles and divided them up among the players, with everyone getting a few and Pete, Shaic and I getting the lions share. We handed them out to family and friends. I doubt that we ever sold a single record. For most of us, it was our first foray into record production.
Shaic has since passed away. After his mother passed away, he moved into her house and lived there without the benefit of electricity or plumbing. He was still recording his songs onto a mini-disc recorded and was compiling them into an album that would be titled "Black in Albuquerque."
Pete went on to write songs for Donny Hathaway and others. He can play almost any instrument and is an incredible entertainer. He was runner up on Star Search and a quarter-finalist on America's Got Talent in 2009. Pete has spent most of his career doing impersonations of entertainers including Ray Charles, Michael Jackson, Stevie Wonder, Little Richard, Prince and many more and stretched his repertoire to include Barrack Obama, Garth Brooks and Frank Sinatra. He lives in Las Vegas where his show at Bally's now employs other artists who impersonate everyone from Whitney Houston to Tina Turner.
I continue to plod along as a singer and songwriter, carving out a niche for myself in New Mexico giving workshops to other music industry pros and hoping one day to pen that million-dollar song.
(Jose Ponce, 2018)
'Ain't No Big Thing Do' / 'Suave Villi Us' made available on limited 7" from Backatcha Records.
Pete Peterkin & Aka Shaic in 2011: