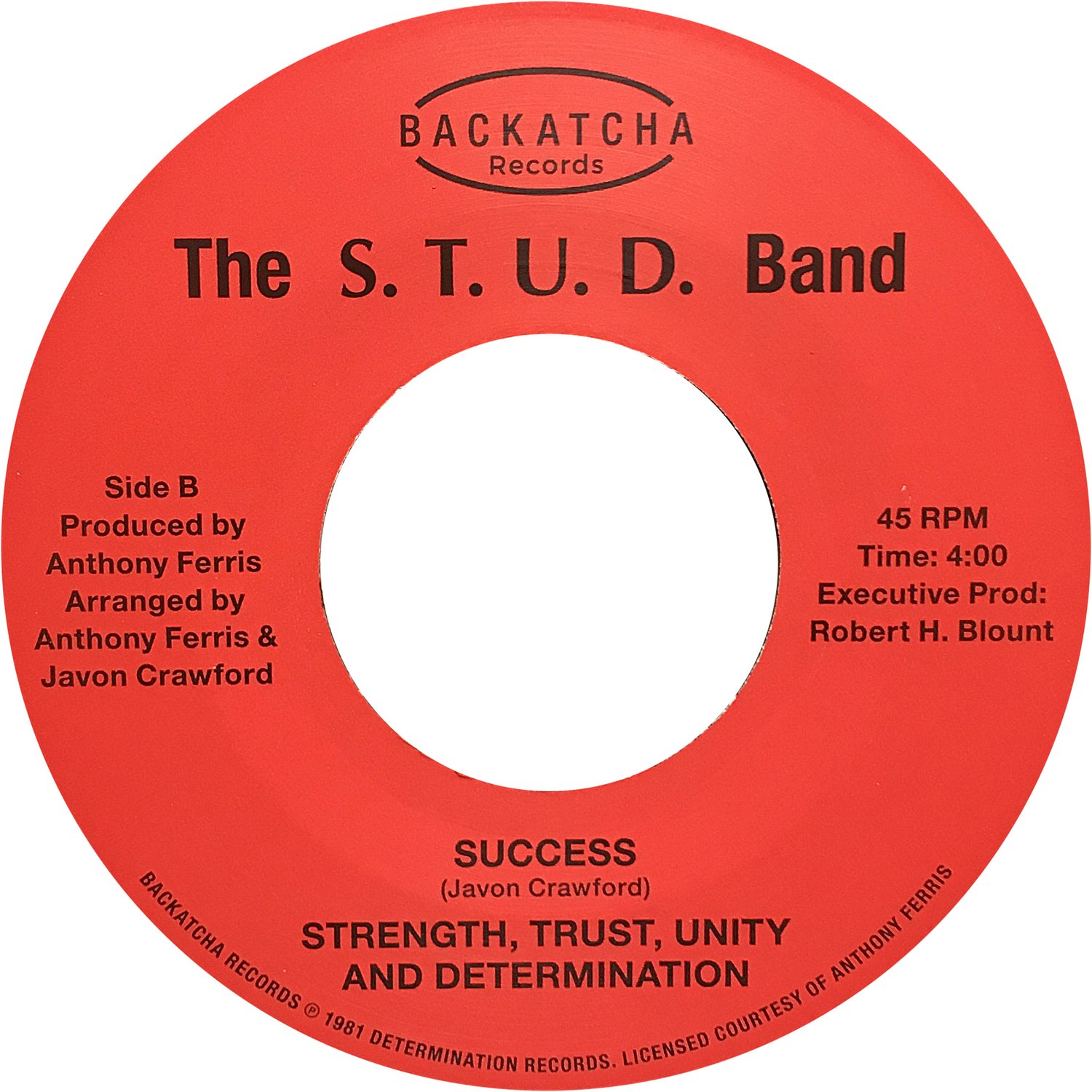 The S.T.U.D. Band
A Side - Where's the Floor
B Side - Success
Sought-after disco funk jam recorded in Miami, 1981, that's just as at home amongst old-school rap grails as it is amongst the best of rare boogie, funk and modern soul gems. Available for the first time on official reissue 45. Strength, Trust, Unity and Determination hailed from Augusta, Georgia. Bandleader and trumpeter Robert Blount played in The J.B's touring line-up for a brief time in the 70s and later started S.T.U.D. Band, forming a septet to gig and record in Miami, Florida. The line-up included the groups bassist, producer, composer and arranger Anthony Ferris (pictured) who gives a brief backdrop to the beginning and end of his time with the band:
The band was started in Augusta, Georgia, by the late Robert H Blount. He was a trumpet player with the group L.T.D. and toured with them for about two years before they broke nationally into the charts. They were having difficulty on the road and going hungry. After months without any gigs, Robert threw in the towel. Three months later, L.T.D. had a hit and went to the top.
The guys of L.T.D. felt it was unfair to let Robert come back to the band even though he had only been gone for about three months. They felt like he did not stick it out with them, so he did not deserve his place back in the group, only offering him tickets to their concerts whenever they were in town.
That was heartbreaking for Robert Blount and he vowed to start another group that would one day be on the national stage. That was the beginning of Strength, Trust, Unity and Determination.
The group members at that time were the late Israel Ellison and Sonya Forth, they were the male and female lead vocalist; the drummer was James Alexander Dumas; keyboard player, Javon Crawford, guitar player Rufus Williams and the group needed a bass player. Rufus found me, Anthony Ferris, and after he auditioned me, they brought me into the group.
We practised for three months straight. Disco was still big as this was the late 70s era, so show bands were being replaced by disc jockeys. Nevertheless, we practised everyday and worked on our show whilst learning the latest songs.
The band went to South Florida for what was supposed to be a two-week visit but little did we know, Robert Blount had no intention of us returning. He was about 36 years old and we were in our late teens and early twenties. When we went to South Florida, we began to play in small clubs that would hire us and soon developed a reputation as a great set. We entered the Battle of the Bands and defeated the number one R&B group that held the state title for the last 13 years. That immediately gave us recognition and we found ourselves playing on Miami Beach at some of the biggest hotels. Having gained a lot of notoriety, our band became a target for other bands.
We met a gentleman at one of our hotel gigs and he wanted to manage the band. He said he would make us the biggest thing since K.C. and the Sunshine Band. But he said we needed to integrate the group. He intended to do the opposite. Instead of having our black female lead vocalist, he was going to bring in a white female vocalist to give the band 'diversity'. Also, he was not going to let our trumpet player and founder Robert be on the album cover because he felt that he looked too old to be marketable. This caused Rob to be very irate and offended. What was about to become a big money deal for us turned into us being blackballed in South Florida. After that, no Club would touch us.
The climate was that if the right person or organisation blackballed you, and you were a club owner and you valued your livelihood, valued your limbs and valued your family members, you do not touch a group that has been put on the so-called blacklist.
Our guitar player Rufus Williams was shot one night in his hand whilst attending a nightclub to check out one of our rival groups. To this day, we have no proof of who did it, but we believe the attack was intentional and that began to lead to the demise of the group. Rufus left and went back home to Augusta, Georgia. We incorporated another guitar player from the Miami area and tried to regroup. That's when we went into the studio and recorded 'Where Is The Floor' and 'Success'.
They played it some on the radio, but again, we were a blackballed group and we did not get traction. To this day, people in the South Florida area that remember us still marvel at the exquisite show we put on. The only members left are Javon Crawford, Rufus Williams, and myself, producer Anthony Ferris. We tried to stay together and live up to the name Strength, Trust, Unity and Determination, and this carried us a long way until the group's eventual end in the early 80s.