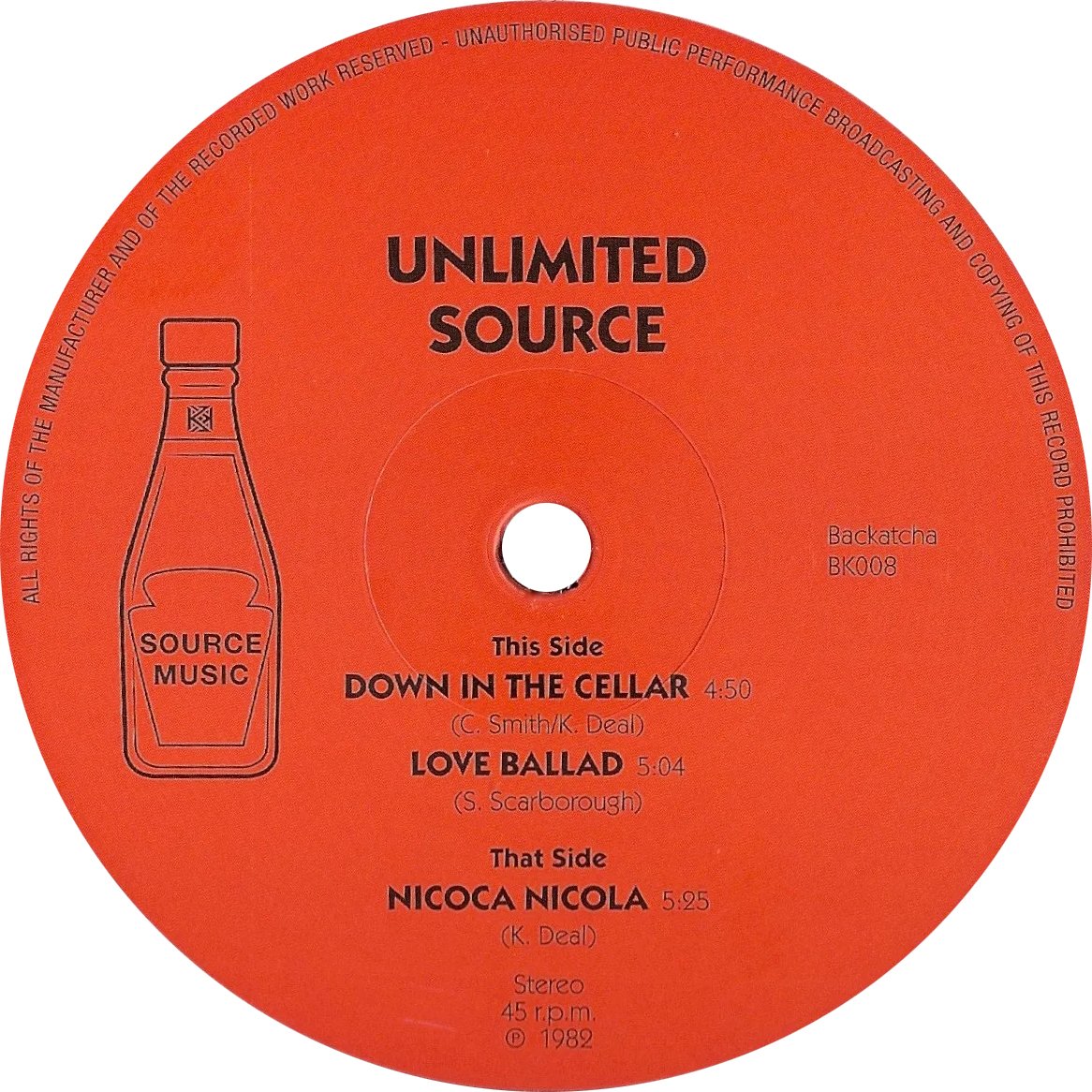 SOLD OUT Unlimited Source EP
"It should be 'Nicoca Nicola', not 'Nicola Nicola' or 'Nicoco Nicola!" explains Keith Deal, setting the record straight on his band's original label misprint. "It's a play on words, Coca Cola with Ni in front of both. I had a phase of naming songs after drinks... Lemonade, Alka Salsa and Orango Tango!"
A record that remained unknown to most collectors but has been an understated classic amongst discerning record heads like Sean P since the eighties, Unlimited Source's Down In the Cellar EP is a UK-born jazz-funk fusion masterpiece.
Recorded at Wopalong Studios, Luton in 1982 and released by the band themselves, the record was obscured by a limited press, available only at their live shows and a few key record shops like City Sounds in Holborn. Glowing reviews from Invicta's and LWR's Debbie Goper in a 1981 edition of Groove Weekly magazine noted "Their original material is very skilful with quite a unique sound... Six strong with ages from 18 up to 31, they make a great team. Amidst the general lunacy I managed to establish they have been together for about a year with most of them being old friends"
A band of musicians hailing from Hemel Hempstead, Harpenden, St Albans, Watford, and Luton, they had steady gigs in north London and across the surrounding commuter belt. Most of their original songs were written by guitarist Keith Deal and keyboard-player Richard Vahrman. Asides their original compositions, gigs were filled with cover-songs of popular jazz-funk titles including their take on George Benson's uptempo spin of 'Love Ballad'.
Taken from a 1981 studio recording, their own previously unreleased version of the Skip Scarborough penned classic features here for the first time alongside the stand-out b-side dancer 'Nicoca Nicola' and the breakbeat-loaded title cut.
"Mainly myself and keyboard player Richard Vahrman wrote the majority of the original compositions (separately), although 'Down in The Cellar' was mainly written by a trumpet player called Chris Smith, named after the cellar in the drummer's house (Peter Hemsley) where we used to jam and practise. I provided the scat melody in the B-section and the arrangement."
Other Source members were Jan Mooney (vocals), Joe Armah (bass) and Krys Mach (Alto, Tenor, Sax and Flute). Mach went on to play with Level 42 and in later years, moved to LA to work with pianist Frank Strazerri. The sessions for the EP were engineered by Stikki Stuff guitarist Ian Mitchell.
"During the Source era I was introduced to a lot of jazz, funk and soul" remembers Keith. "The Crusaders, George Benson and Stevie Wonder come to mind. We always enjoyed our gigs at The Production Village in Cricklewood"
A rural idyll located in the middle of suburban north-west London, Production Village had its own village green, a pond and a pub. Off-beat and trendy for a time, the venue was a regular hub for all-sorts including many jazz, funk and rock related bands like Paz, Incognito and Combo Passe routinely performing. "The crowd was always enthusiastic and other performances included supporting the Morissey Mullen Band and Light of the World." says Keith, reminiscing about his formative years.
"I've played guitar since about 7, I think originally people who influenced my decision were people like Hank Marvin from the Shadows whom I met once in a record shop I worked in. Then in my early teens Jim Hendrix and Eric Clapton. The sound of an electric guitar always thrilled me, and still does, endless possibilities for expression"
"I listened to a lot of prog rock and jazz in my early teens, favourites were all the Frank Zappa albums, Soft Machine... King Crimson... I listened to a lot of jazz... Pat Metheny, Wes Montgomery, John Coltrane and Charlie Parker... I was also big fan of legendary guitarist Allan Holdsworth."
The Source featured in an early Channel 4 broadcast playing a cover of 'Mister Magic' at The Barrracuda club in Baker Street. The band was filmed as part of a Kelly Monteith special in which the American comedian compares London's Clubland in the 1980's to nightlife in the 1960's.
Meanwhile, thirty-odd miles south in the borough of Brent, Harlesden contemporaries True Feelings and the 2AM Band created their own lane in the brit-funk landscape with a debut-single recorded just one-year earlier.
Similarly, Unlimited Source's stand-alone EP highlights a distinctive group sound that cuts across genres and has stood the test of time to cut across generations 35-plus years later, becoming another up-front jazz-funk essential.
Unlimited Source's 'Down In The Cellar' EP is available now on 12", remastered and available as an official reissue for the first time exclusively on Backatcha Records.