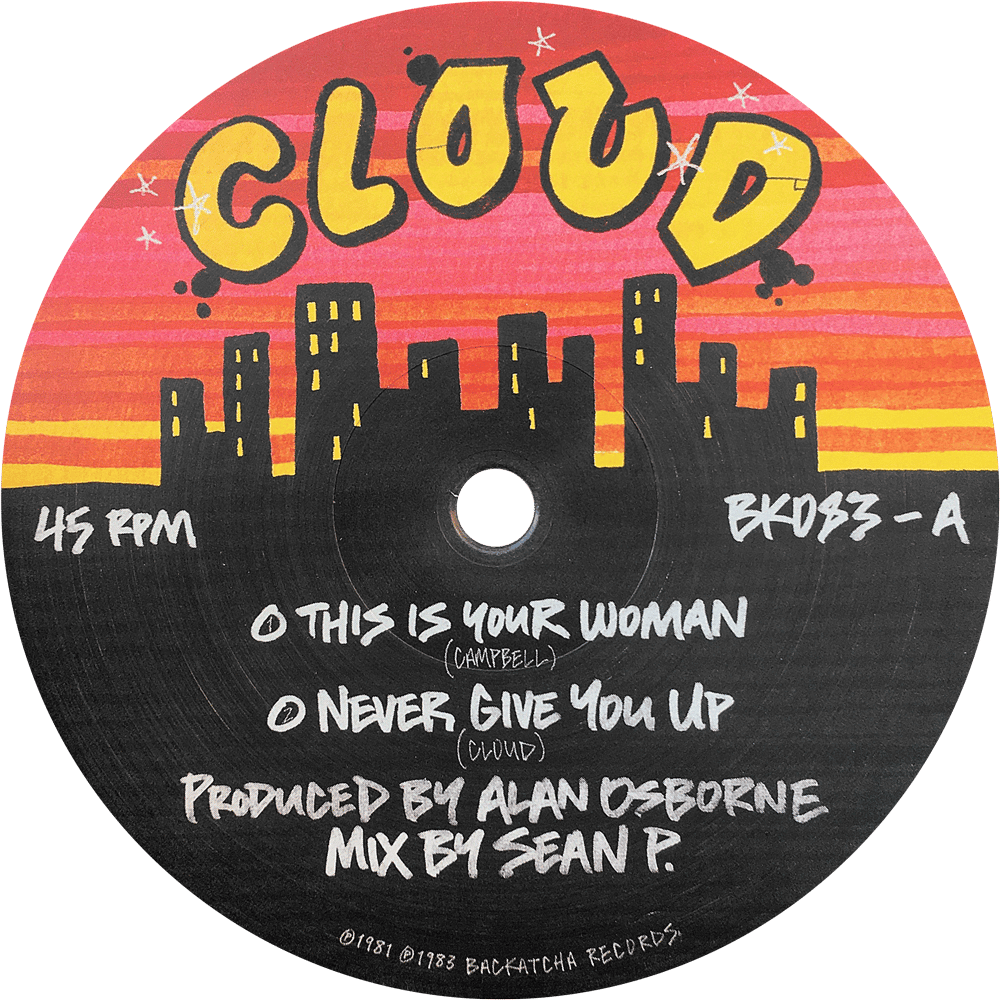 Cloud 'This Is Your Woman' 12"
A1 This Is Your Woman
A2 I'll Never Give You Up
B1 This Is You, Dub-Wise
B2 I'll Never Give You Up (Instrumental)
Two previously unreleased recordings from Swindon Brit-Funk outfit Cloud, recorded between 1981-1983 and mixed from the original multi-track recordings by Sean P.
"There was also a tune that a Bristol DJ brought to me called 'This Is Your Woman', which was a sultry slow soul track. I decided to record it but wasn't sure about how commercial a track like this would be at a time when dance was king, so I rearranged it as a funk track to go alongside the original. It cost me a fortune to get as far as I did with this, but I ran out of money so never really finished it to the quality I wanted."
(Alan Osborne, Flashback Records, 2019)
Originally recorded as a ballad on a demo tape, 'This Is Your Woman' was penned by Bristol-based DJ Tony Campbell. This first take inspired Flashbacks Records shop owner and producer Alan Osborne to re-record an uptempo version with Cloud as a follow-up to the singles, 'All Night Long' and 'Take It To The Top'. Due to financial constraints, the release remained unmixed and was shelved. Now, for the first time in four decades, the song is brought to life from inception to mixdown by Sean P.
"'This Is Your Woman', like its 'Visions' predecessor, was mixed from two 24-track versions of the same session, combined to make a 48-track multi'," explains Sean P. "This was necessary to get all of the individual instruments isolated, as each multitrack had some elements the other didn't. Synchronising two analogue 24-tracks by ear is quite difficult, as each will have small amounts of tape speed drift which only become apparent when both are played simultaneously. It took about 3 days to straighten out before mixing was possible. The end result is hopefully faithful to the time the track was recorded - the early 1980s days of post-punk/new wave and disco crossovers."
Similarly, the electric funk of 'Never Give You Up' also makes its debut here with vocal and instrumental versions. After various line-up changes in the band, the song is one of five previously unreleased tracks recorded live and in session for a GWR FM radio broadcast in 1983.