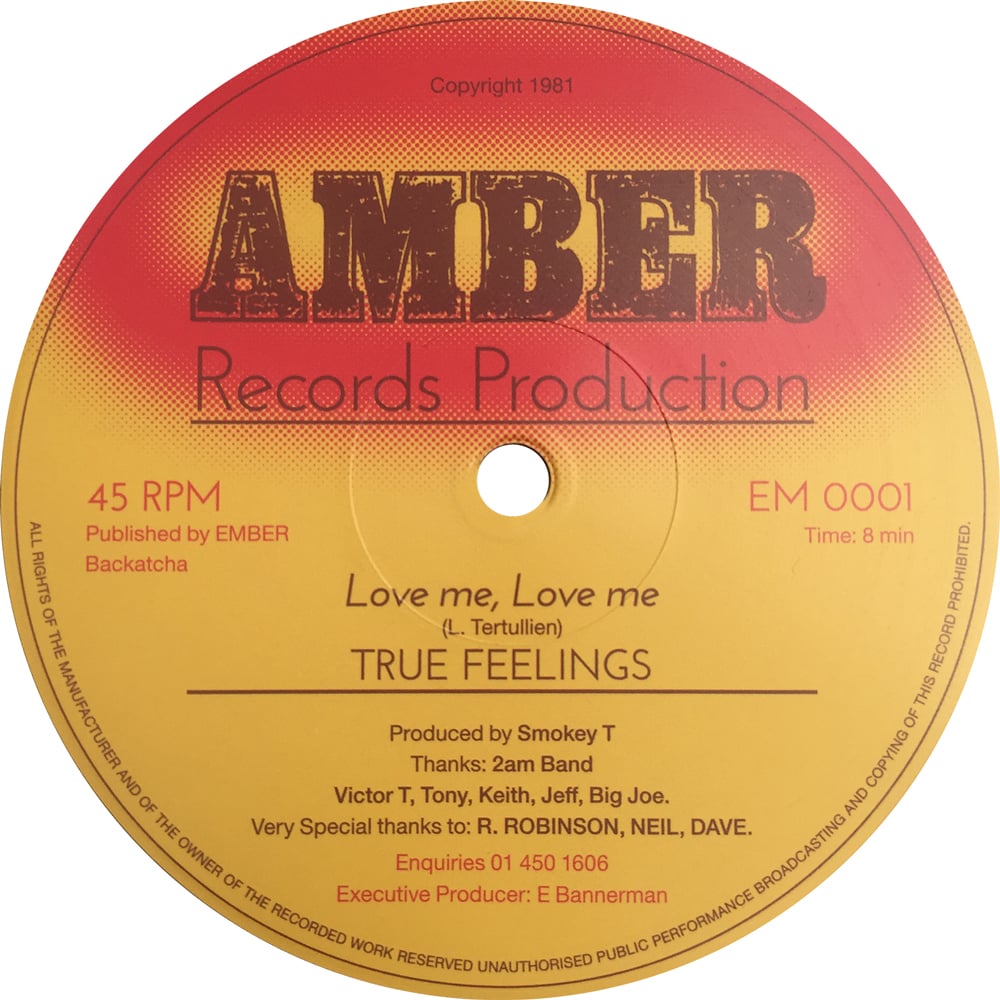 SOLD OUT True Feelings 'Love Me, Love Me'
In the 1970's and 80's, the north-west London borough of Brent and particularly Harlesden was a centre for black music in the UK. Whilst many of the key reggae labels, distributors and record shops were based in the borough, all avenues to black music have flown through Brent.
When producer Smokey recorded and wrote 'Love Me Love Me' it was the local backdrop of playing funk and soul imports in pub function-rooms in the mid-70s and whatever informed the True Feelings band members musical learning that made the cut.
"It was my brother Vic on drums, Keith was on bass and our cousin Julian is on vocals. We had a jam session at Tony's house one night who was on keys. He was a genius. A classically trained pianist. We used to practice in his basement and came up with the song one night. Big Joe was there too and he did percussion. It all just came together".
Already active during the first wave of the UK funk and soul movement, Smokey travelled across the country as a front-line DJ for his squads Inter City Soul Club nights long-before what became the 'rare groove' scene. "I wanted to do a record that was just us. My brother, our mates, my cousin, 'Love Me Love Me' was a reflection of where we were at back then".
Released in 1981 in tiny quantities the song's history has been an enigma ever-since. Musically it's streets ahead but yet had remained under the radar for years until veteran London DJ and collector Winston found it amongst a stash of reggae records about 15 years ago. He explained "It looked like a reggae record or lovers release looking at the label but something about it just told me it wasn't and I took it home".
Rumours circulated it was members of an already well-established set-up. "Atmosfear and Jerry Pike are all friends of ours" says Smokey. "We all used to jam together. That was our sound"
By the early-80s, the surrounding neighbourhood had spawned Hi Tension and many other releases on small imprints, all with their own take on the movement and True Feelings embraced that. Smokey elaborated, "That's how it was, you had to have your own style. Everybody wanted that American sound because no one would play UK releases so we just did our own thing. It was just a feeling."
True Feelings 'Love Me, Love Me' is available now on 12", remastered and available as an official reissue for the first time exclusively on Backatcha Records.