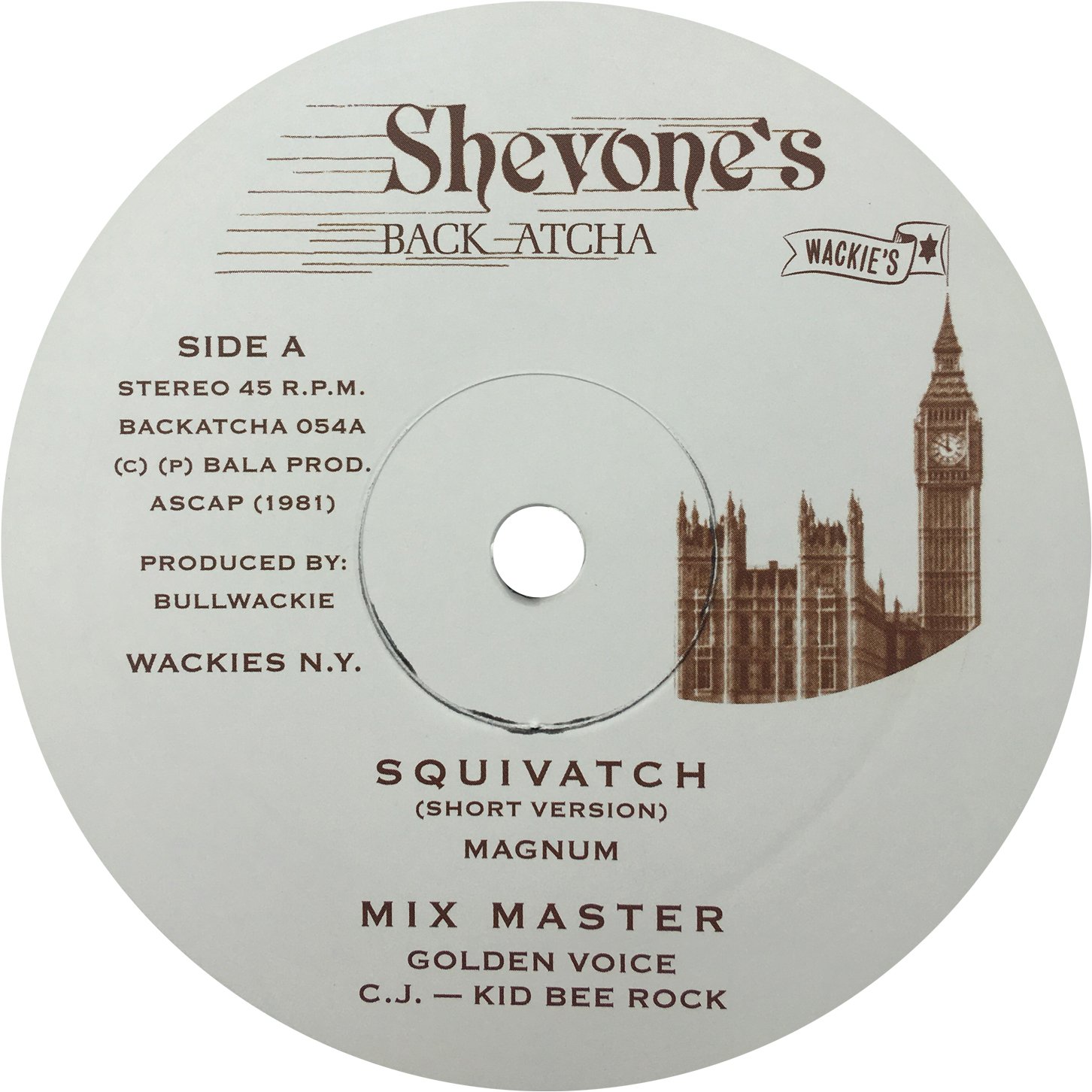 WACKIES 12" Magnum - Squivatch / Golden Voice & Co - Mix Master.
Magnum 'Squivatch / Golden Voice' 12" Backatcha / Wackies Exclusive
A1 Magnum - Squivatch (Short Version edited by Sean P)
A2 Golden Voice, C.J. & Kid Bee Rock - Mix Master
B1 Magnum - Squivatch
*Orders will be despatched from 30th May.
"When we make Squivatch we wasn't thinking 'Radio', we thinking 'Sound System'"
(Lloyd 'Bullwackie' Barnes, 2019)
New York backstreet Disco Funk from 1981 via Lloyd Barnes' Wackies powerhouse. A one of a kind release featuring 'Squivatch', a B-Boy-P-Funktified masterpiece coupled with the old school Bronx rap grail 'Mix Master' by Golden Voice and crew aka Chapter III, backed by the Bullwackies All Stars.
"Magnum was made up of the regular house band we used at the studio," says producer Lloyd Barnes. "I'm not sure who was playing drums on that but it was all local musicians just jamming. I'm really fond of that period back when we recorded 'Squivatch'. It was a really great time for the music. It was a Wackies production but I named the label Shevone's after my daughter".
Reissued officially for the first time back-to-back in the original format , this 12" also features a bonus version of 'Squivatch' edited by Sean P, condensing the original 8-minute jam into a cohesive 5-minute disco funk burner.
Barnes had already cut a rap record in 1979 releasing 'Wack Rap' with Solid C., Bobby D. and Kool Drop, backed by the Wackies session players. Originally starting out as a sound system, Wackies studio formed in the early half of the 70s and became one of the longest-running reggae studios in New York. Whilst Wackies is known as a reggae stronghold, pioneer Lloyd Barnes immersed himself in New York's diverse and rich music culture, and had embraced the burgeoning Bronx hip-hop scene from the start.
Bronx Native and rapper, MC Golden Voice grew up just around the corner from Wackies studio on White Plains Road. Together with C.J., and Kid Bee Rock, the trio recorded their debut 'Mix Master' at Wackies. The following year, they became collectively known as Chapter III, recording at Blank Tape Studios for releases on Brad Osborne's Grand Groove Records. "We used to go to Brad's Record Den looking for break beats they were playing at the park jams. There was a room in the back with a guy that'd play all the popular records the DJ's wanted and we'd hang out there a lot ... One of my favourite beats was 'Catch A Groove' by Juice." says MC Golden Voice aka Richard Usher who later formed Partners In Kryme and recorded the hit, 'Turtle Power'. "The shop's owner was Brad Osborne who sold a lot of reggae and that's where we met Lloyd. This led to us recording 'Mix Master'. When it came to doing our song, the backing track had already been recorded when we arrived at Wackies studio," explains Usher, "we just had to lay our rhymes down."