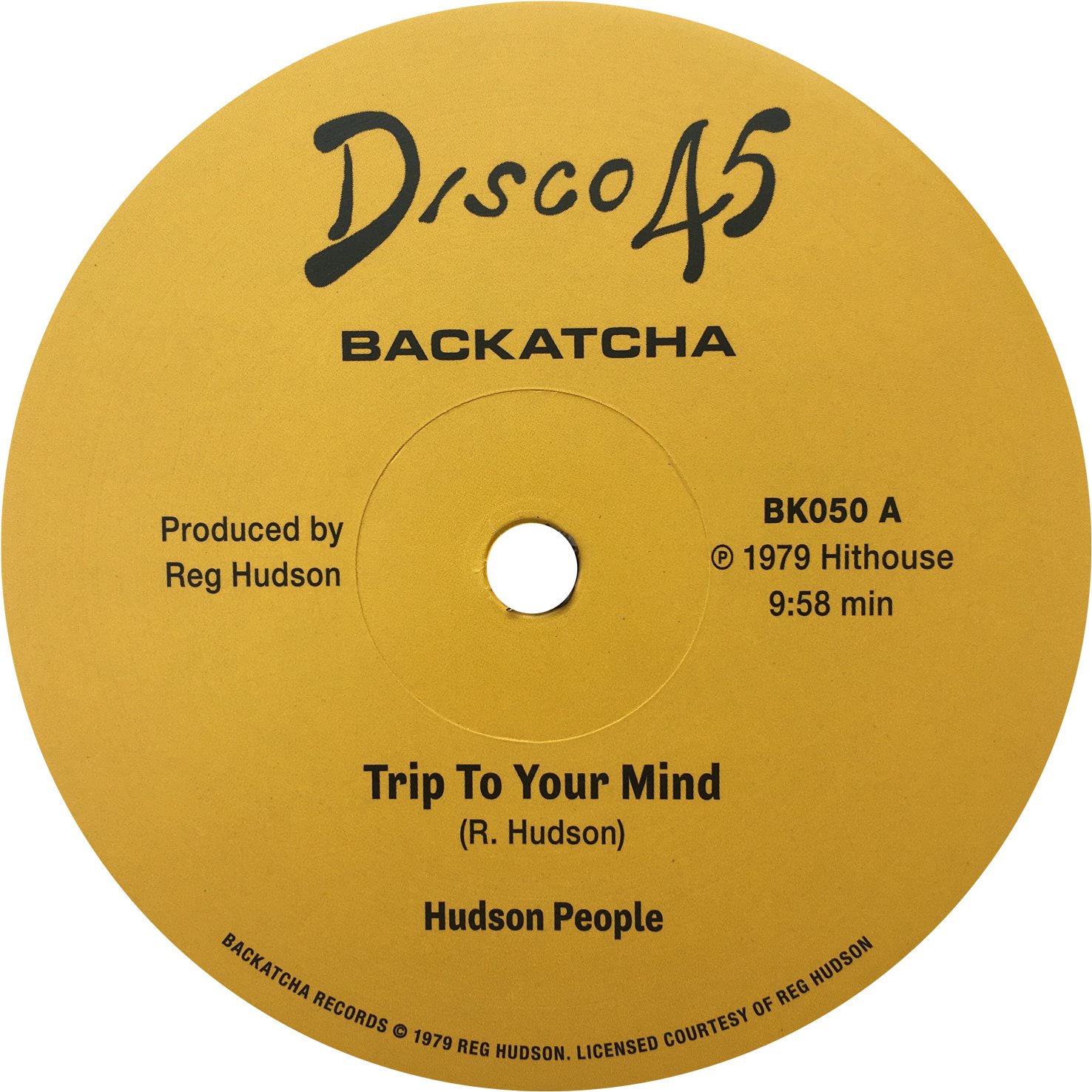 Hudson People 'Trip To You Mind' Original / Remix
Hudson People 'Trip To Your Mind' 12"
Side A: 'Trip To Your Mind' Original Mix
Side B: 'Trip To Your Mind' Chris Hill & Robbie Vincent Mix
Available now, both classic mixes coupled together for the first time on one 12".
Until now, the origins of Hudson People's 1979 jazz-funk club masterpiece 'Trip To Your Mind' have largely remained a mystery for over forty years.
Alongside the likes of Atmosfear's 'Dancing In Outer Space', the band's debut is heralded as one of the greatest brit-funk recordings ever, but unlike their North West London contemporaries, they were neither local nor British.
Hudson People were a six-piece band made up of players from South Side, Chicago and Phoenix, Illinois, named after band leader, composer and producer, Reg Hudson.
"Herva Middleton and Ricky were the two singers, Tony Palmer was on guitar, Rickey on bass and Herva was on drums. Charles Walker played the saxophone and Harvey played Trumpet and Trombone. I was on keys and wrote the song and lyrics," explains Reg, who was already a working musician before his time in London.
"I played keyboards for The Emotions for three years including a U.S. tour headlining with Earth, Wind and Fire, and Ramsey Lewis. I also played for a lot of the blues artists around Chicago like Bobby Rush, Syl Johnson and even Muddy Waters. He used to play at my uncle's tavern in Phoenix called The White Rose. I played my first gig there with my first band when I was 13 or 14 years old. It was made up of the Rose Brothers, Leonardo Mayfield and Teddy Hawkins ... Leonardo became the drummer for Curtis Mayfield and The Impressions, but he was not related to Curtis."
What was London like back in the late 70s coming from the US? Tell us about that and how Hudson People came to live in London for a while: "Most of the band had been in the army and were based in Germany doing the live circuit and performing at army bases. They came to England with plans to play some gigs and called me when I was in the US to come and join them. I had just got off a national tour with the Emotions and I was in two minds about whether I should go to London. I told them if they bought me a ticket I would go and they did."
"We lived in a house in Thornton Heath. We were managed by Alf Baptise and his brother. They met the band in Holland when they opened up for Eric Burdon and War. The brothers were the nicest people you could meet. Alf was a carpenter who loved music and helped manage us on the live circuit. I met a lot of people in the London music scene."
Two of those people were Smokey Tee of True Feelings and the late Jerry Pike of Atmosfear. They were both behind the counter at All Ears Records in Harlesden. The shop, owned by proprietor Jim Collyer, was also the base for his latest venture, Hithouse Records and he was looking for a record to launch the label. "The number on the yellow label is the number of the record shop I was working in at that time, and Jim was my boss" explained Jerry, "The band were American and over here on a short break. Their main man was Reggie Hudson. The song was recorded in a studio off of Regents Park".
The place was Advision Studios in Fitzrovia, a top-class recording location for major pop and rock acts. "After writing the song on my piano, I showed it to the band and we recorded it right away. The release was pretty under the radar and the next thing I knew, Ensign wanted to license it for a Robbie Vincent and Chris Hill remix" says Reg.

"At the time, radio exposure to tracks like this was rare but it fitted my BBC London Saturday show perfectly," recalls Robbie Vincent. "I can't remember where I harvested it from, but I do remember playing it to Chris Hill at Ensign records who agreed a remix would be a good idea. It's an 'of the time' type of track but it turned into an earworm tune as I still get asked about it to this day."
With major distribution backing the Ensign release, 'Trip To Your Mind' was under the spotlight and became an instant hit with the jazz-funk crowd - as Fitzroy Facey (The Soul Survivors Magazine) glowingly recalls:
"Upon hearing it aged 15 in 1979 for the first time at an under 17's school night disco, whilst simultaneously watching some of the best dancers, including a young Hamish Seelochan (of The Pasadenas) boogie esoterically with such synergy to the Hudson People. 'Trip To Your Mind' was an unforgettable astral travelling experience, like the track title suggests. Watching them connect, interpret and freestyle to the lyrics and the transient rhythms - becoming like Sister Sledge, totally 'Lost In Music' - made me run down to W.H. Smiths in Ealing Broadway on my way to school and within 48 hours, purchase the 12 inch on Ensign Records. 43 years later it remains an anomaly - a jazz funk soul fusion production, unsurpassed by anything else of that genre's era or since, such is the creative genius and uncompromising musicianship of Reg Hudson and The Hudson People."
Despite the Ensign release, after about eight months of living and practising in London, the band were unable to get a permit to perform in England "because of the red tape", states Reg. "They decided to go back to Germany and I decided to extend my stay in London for six months. They held things together for about two years playing the US Army bases, but women, alcohol and other substances drove the band apart".
Meanwhile, back in London, two major-label single releases followed with 'Boogie On Downtown' and 'Boy Scout'. After Ensign got hold of 'Trip To You Mind', Reg Hudson was introduced to label mates Light Of The World. "At first, I used their horn section on 'Boogie On Downtown' but later re-recorded it with the horn and brass section from The Commodores and Emotions tour band when they played at Wembley Stadium together. I continued to work with Gee Bello, the lead singer for Light of the World. We worked together on some songs at Scott English's house. Paul 'Tubbs' Williams and I had planned to work together too. I remember going to Tubbs's house in London and we were discussing what we should do but Tubbs had so many projects we couldn't find the time. I was older than them and already had a lot of experience as a musician. Those guys showed me a lot of respect and made me feel like a king. I really loved London and still do, there are a lot of great musicians there".